The Carnival of Putignano is one of the oldest carnival celebration in the world. Sundays during this period see processions of huge papier mache displays, usually depicting satirical images of contemporary figures, along with masked and costumed groups parading through the town.
The four parades of papier mache floats and masqueraded groups take place on the following days:
Sunday 17th February 15.30
Sunday 24th February 15.30
Sunday 3rd March 15.30
Shrove Tuesday 5th March 19.00pm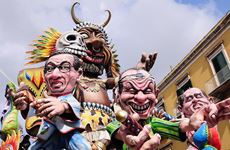 For direct flights from the UK to Bari and Brindisi, Puglia's main airports check the links below.
Ryanair flies to both Bari and Brindisi throughout the year from Stansted
British Airways flies to Bari from Gatwick April through to October
Easyjet flies to Bari or Brindisi from Gatwick throughout the year
Other Italian airports within easy reach of Puglia include Pescara and Naples (about 3 hours).
Please feel free to contact us by using this form or the telephone numbers above or email us on:
info@pugliaholidayrentals.com
If you are looking for some help with finding the perfect holiday rental in Puglia please include the following information so what we can process your enquiry as quickly as possible
Dates
No of nights
No of adults
No of children
Budget for this period
Any further information that would help us to find the perfect Puglia rental for you and your family.
We look forward to hearing from you
Please enter a valid email address