Trullo Melograno - a little paradise in Puglia with a large pool - Ref:110083
Hidden down a short track in the countryside of Martina Franca lies Trullo Melograno. With large private pool, lush grass, plants, trees and shaded veranda make it the perfect place to relax, sit back and enjoy the sun. 3 bedrooms, 2 bathrooms, wifi sleeps up to 6.
INSIDE TRULLO MELOGRANO
LOUNGE
You enter into the lounge/sitting area where there is plenty of comfortable seating for 6 people, large flat screen TV with DVD player and a small hi-fi system. DVD's are available in both Italian and English as well as some books including local guide books.
From the lounge is the:
KITCHEN-DINER
The kitchen is well equipped with full size oven, four ring gas hob, large fridge/freezer, double sink, full size dishwasher, a large preparation area with plenty of cupboard space containing all the pots and pans etc. The view from the kitchen window looks straight out onto the pool.
The dining table seats 6 people and the dresser nearby contains all the crockery and cutlery you will need.
The trullo cones in this lounge, kitchen and diner are huge which makes the area light and airy. The stone exposed walls and the wooden beams make it charming.
From the kitchen/dining area is the corridor to the night area:
An air-con unit is located in the night area hallway which serves the Master and Twin bedrooms when the doors are open.
MASTER BEDROOM
The master bedroom has a large double bed, bedside tables with wall lamps and array of wardrobes with drawers and hanging space. There is a full length mirror and a TV mounted high up. The room has a relaxing feel to it with white walls, exposed stonework and a barrelled ceiling. The window looks out onto the pool.
FAMILY BATHROOM
The large bathroom has bath with shower screen and shower attachment above, bidet, wash hand basin and WC. Above the sink is a mirror with socket for shaver nearby. There is a wall cabinet for storage and here you will also find the washing machine.
TWIN BEDROOM - BUNK
This room has a modern style bunk bed system. The beds instead of being fixed under each other, they are side by side, with one sliding under the other during the day if you require more room. They are suitable for children or adults happy to use them. There is a large set of wardrobes, drawers and a small desk with seating on the opposite wall. The window looks out onto the rear of the trullo onto the lavender and rosemary bushes.
TWIN ROOM
This room has 2 single beds with bedside table and lamp, nearby there is a chest of drawers and a shelving unit. The window looks out the lavender and rosemary bushes.
On request the beds can be put together to make a double
OUTSIDE
POOL
The pool is free form shape and is entered at the narrow end by steps into the shallow part of the pool, this is also the perfect place to sit and read a book. At its longest point it is just under 10m and is 5.4m wide. As the pool opens up and widens it deepens to approx. 2m deep.
At the side of the property is an outdoor shower
Surrounding the pool and gardens you will find 4 sun loungers, a deck chair and a hammock. There is a grassed area with plenty of shrubs and bushes with block paving and paving all around so great for those in bare feet and for children to play on.
Next to the pool area is PIZZA OVEN. In our house book we tell you how to light the oven and make great pizzas. Children love making their own pizzas.
The trullo is surrounded by bushes and fencing making it very private.
AL FRESCO DINING area under the covered veranda
There is a table which seats 6 and is surrounded by plants. It is a great space to eat but also take some rest from the sun.
A huge wooden arch joins the trullo to the lamia building. Here you will find a wooden bench, stone seating and nearby the washing line.
LAMIA BUILDING
This quaint little room was used for storage and preparing food. Today you will find the table football, toys and games. For those of you who might hire bikes, it is the perfect place to store them. It is here you also find:
BATHROOM 2
A small bathroom with wash hand basin, WC and shower. There is a small storage cabinet and a window to the side of the property.
OTHER INFORMATION
There is a table tennis available outside.
There is free internet at the property
The property is fully fenced and has an electric gate with remote control.
All windows have mosquito nets.
The property has an alarm
The pool is open from May to the end of September. If you require the pool in October please ask.
PARKING
There is sufficient parking for 3 cars.
PETS
Well behaved animals are welcome free of charge and have terms and conditions attached to the acceptance.
There is a further £200 refundable security deposit payable.
Please get in touch to discuss this with us, so you and your pet can enjoy a holiday together.
No pets accepted unless written in the contract.
NEARBY
Plenty of cafe/bars, ice cream parlours and restaurants to suit all budgets are available in town and no trip would be complete without a visit to Martina Franca market which occurs every Wednesday.
At Trullo Melograno you will find lots of information on what to do and what to see in the area, helping you to make the most of your dream holiday in Puglia.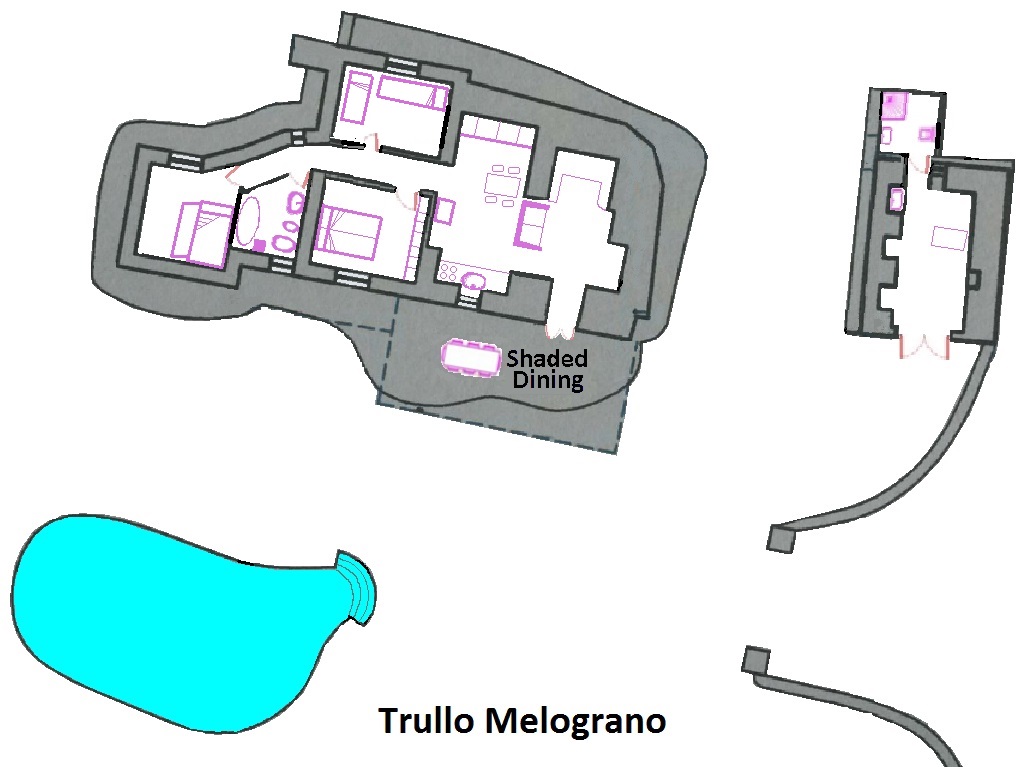 Baby Friendly

High chair

Travel cot

Bathrooms

2

Bedrooms

3

Family friendly

Baby friendly

Groups of Friends

Child Friendly

Indoor Entertainment

Board Games

DVD Player

Stereo System

Table Tennis

Wi-fi

Books

DVDs

Table Football

Television

Kitchen

4 ring hob

Fridge-freezer

Microwave

Washing machine

Dishwasher

Kettle

Oven

Other Amenities

Air Conditioning

Hairdryer

Iron & ironing board

Alarm system

Internet

Mosquito screens

Outdoor Facilities

BBQ

Table football

Pizza Oven

Table Tennis

Sleeps

6

Swimming Pool

Outdoor Pool

Private

Pool shower

Nearby Activities

Cycling

Zoo

Waterpark

Go-Karting

Nearest Airport

Bari

Brindisi

Property Type

Trullo

Villa

Theme

Family

Romantic

Suitability

Elderly Friendly Properties

Pets Welcome
| Start Date | End Date | Weekly Rate (£) | Nightly Rate (£) |
| --- | --- | --- | --- |
| 05 Sep 2020 | 25 Sep 2020 | 1,050 | 190 |
| 26 Sep 2020 | 30 Oct 2020 | 850 | 160 |
A deposit of 50% is required to secure a booking with the remainder payable 8 weeks before the commencement of your holiday. Payment is via bank transfer to our UK account or sterling cheque.
CANCELLATIONS: A minimum of 8 weeks notice of cancellation is required and must be made in writing. Refunds will only be made if the property is successfully re-let to cover the cancelled period.
The breakage deposit of £250 GBP is payable with your final balance and will be refunded once the owners are satisfied that there have been no breakages or damage by bank transfer within 7 working days of your departure.
The price includes all utilities, linen, towels, pool towels, small welcome pack and free wifi.
CHANGE OVER DAY
We are flexible with arrival days providing this does not leave us with a gap we cannot sell.
POOL
The pool is open from May to October each year.
BABIES
Available free of charge is a travel cot and high chair. We do not supply linen for the travel cot as often babies have sensitive skins, this you would need to bring.
We had a total of 7 weeks at Trullo Melograno
The lovely trullo and beautiful pool were thoroughly enjoyed by us all! A beautiful home to share with friends and family, sad our stay has come to and end.
CardoneOct 2019
Management comment
Thank you for your lovely review of Trullo Melograno. It has been a pleasure to have you stay with us and to help you discover more of the local area. We hope to see you again next year.
We've had a great week at Trullo Melograno
The children thoroughly enjoyed the swimming pool and playing in the beautifully kept garden! Martina Franca is beautiful , we also ventured to Polignano a Mare. Had some great meals in town - Osteria del Coco Pazzo, I Templari (amazing food), and for a change Shoshin Japanese restaurant! We would also recommend trying a cafe Leccese
Andrews familyAug 2019
Management comment
Thank you for review. There are a wealth of restaurants in Martina Franca and it is great to hear you enjoyed our recommendations.
We have had a lovely week at Trullo Melograno
Our kids (ages 8 and 5) loved the pool and the table football. We recommend I Templari restaurant, amazing food! Also Il Sagittario also cafe Cibando opposite Palazzo Ducale, was great. A fantastic holiday
N BaileyAug 2019
Management comment
Thank you for your review of Trullo Melograno and we are pleased you had a fantastic holiday.
A truly beautiful villa and pool with amazing outdoor space
We stayed at Trullo Melograno as a family of four, including two children aged 8 and 5. The villa is nicely tucked away and only a short drive from the centre of Martina Franca - a beautiful town! The villa had everything we could ask for during our week stay, our children absolutely loved the swimming pool and playing table football, table tennis and making pizzas in the outdoor pizza oven! Jackie met us for check in and check out; she has a wealth of knowledge about the local area as well as the wider area and we were provided with lots of really useful information from start to finish. We absolutely loved the outdoor space at this villa compared to other villas we have stayed in. Everything inside and out is immaculately kept and it feels like a home from home (again a huge plus in comparison to other places we have stayed). Hospitality here was exceptional - thank you for making our holiday memorable and we definitely hope to return!
AngelaOct 2019
Management comment
Thank you for your lovely 5 star review. We want you to make the most of your stay in Puglia and are always happy to advise you where to go and what to do. The outdoor space is really lovely at Trullo Melograno, we agree.
Prachtig logement in een al even prachtige regio
Prachtig logement in een al even prachtige regio We verbleven een week in deze mooie en goed ingerichte trullo met mooie tuin en zwembad. We kwamen aan midden in de nacht, maar dat was geen probleem voor Jackie die heel beschikbaar is en zorgt voor alle mogelijke uitleg. De streek biedt ontzettend veel mogelijkheden tot uitstapjes. Enige minpuntje: de trullo ligt op het platteland, rustig en mooi, maar het is toch wel even rijden om brood en andere boodschappen bij te halen.
Marijke DAug 2019
Management comment
Thank you for your lovely review and we are pleased you were happy with the service we provided. Our headline in the advert is "Your own paradise in Puglia with private pool and just over 5 minutes into town." By this we mean by car not on foot apologies if you misunderstood this. Most people do not walk into town from the countryside. As you say the pool and gardens are beautiful and we are pleased you found the property well appointed. We hope to welcome you back to Puglia again sometime.
Your own paradise in Puglia
From first meeting Jackie to take us to the property until we left, she was a true professional. We arrived late at night, & Jackie had provided us a welctome pack, with the essentials wine, beer & groceries. The property was well maintained & clean, & had everything you needed. We ate out most days, but the kitchen was sufficient enough, to conjure up a few meals. We used it as a base to explore the area, & did over 1000km exploring different places. We had to hire a bigger car, as we had children & cases, which did make it interesting to say the least in some of the narrow streets. I have driven in Sardinia a few times, but this a different ball game. Italian drivers can be very aggressive in both their overtaking, & pulling out of junctions. After the first day, I just started to drive like them, & seemed to fit in! They don't follow the speed limits, so you will be flashed to indicate they are going to overtake you. Plenty of places to eat, things don't really start going till after 9pm. Parking can also be a pain, so factor that in Martina Franca, Lecce of Locorotondo for instance. We had a great last night meal in Locotorondo with friends at "140 Gradi" I would advise to book, they are on FB, just use Google Translate to send message. The holiday can be whatever you make it, stay at the trulli, relax & chill or get out & see some of the magnificent sights of this region. I would highly recommend this trulli, & thank you to the owners Paola & I think Pina? & also to Jackie, who also helped us when we got lost, on only our 2nd day. Grazie per averci fatto fermare nei tuoi trulli,
Mawson familySep 2018
Management comment
Thank you for your 5 star review We always try to do our best for our guests and are pleased you were happy with the service we provided. Puglia has so much to explore and you really do need at least 2 weeks to discover lots of the hidden jems while also getting some down time by the pool. We hope to welcome you back in the future.
A beautiful family villa - Trullo Melograno
Trullo Melograno is a perfect villa for a family with space and grass around the large pool for toddlers or teenagers. The veranda is perfect to shade from the sun for long lunches and relaxation. The pool is a lovely size and not shallow like some. It is a perfect base where lazy days at the villa are as enjoyable as visiting this part of Italy. There is a table tennis table which is fun and other toys for children. It is semi rural so you are not on top of anyone else and yet a short drive to the beautiful town of Martina Franca. The property is very clean and spacious. We stay in villa's every year and not all are as well maintained and presented. If you are a family who like to have a base, explore the area and drink in the culture and experience Puglia, then this is absolutely perfect. The location allows access to both coasts and the main town centres such as Ostuni that you should visit. Google maps or similar are a major advantage for getting about because you would need a very detailed map without it. Having said that, signposting is good and you soon get used to the routes. The beach bars and restaurants are surprisingly reasonably priced and you will find everyone is very friendly and welcoming. We would also recommend Pizzeria Jonny in Martina Franca. Genuine authentic Italian serving quality food. Lovely people and service. Jackie from Puglia Holiday Rentals provides a personal service that you do not find with other villa's. We were met on arrival and departure and she provided support via mail and whatsapp in a way you only normally experience with a package tour rep. We felt help was in easy reach and though we only asked a couple of questions, support was instant. We fully recommend Trullo Melograno and we would stay here again.
ColleyAug 2018
Management comment
Thank you for your lovely 5 star review. We think Trullo Melograno is a great place to stay to experience staying in a trullo, but also with the comforts of a villa and of course the lovely pool. We always try to help you get the most of your stay in Puglia according to your parties interests. There is so much to see and do that you time here will just fly by. We hope to welcome you back again.
Very good and easy process booking, professional arrival service, quick checkout, prompt aftercare/deposit refund.
Holger AllroggenJul 2018
Management comment
Many thanks for your review and it was lovely to hear on departure how you had enjoyed your stay.
We have had an awesome 2 weeks at Trullo Melograno
Super beautiful environment, very clean and great pool. The children had a great time We want to come to the south again.
Erik VSDRMay 2018
Management comment
What a lovely review from the first guests this year at Trullo Melograno, thank you. We are pleased the children enjoyed the table football and the table tennis table. We hope to see you again next year.
Fantastic Villa, great location, first class service
We stayed at Trullo Melograno for a week in September had a brilliant time. The villa is located near a lot of stunningly beautiful towns and only about 35-45 to the beach each side. The villa is every bit as stunning as the photos and well-equipped. The outdoor space is very nice and great for relaxing by the pool, which is a really good size. The owners left us some food as we had got in late and so had enough to feed us, but Jackie kindly had also bought us some things. Jackie provided first class service and gets what it means to offer high quality hospitality and support - always there to answer questions after the booking and on hand to offer advice once we got there. Thank you. If you use these guys, you won't fail to have a fantastic time. The first people we will get onto on our return to Puglia.
Mike HoustonSep 2017
Management comment
Thank you for your 5 star review September is a lovely month to come to Puglia We always try to give our guests the insider information on where to go and what to do, sometimes taking you off the beaten tourist path to the hidden gems that make Puglia a special part of Italy.
Great value for money with a wonderful pool.
This villa is set in a delightfully landscaped garden which is a little oasis in this rustic part of Puglia, and the combination of electric gating, and other security features made the property feel very safe to us as a family. The pool is simply excellent, as is the veranda, and many a relaxed hour was spent either in the water or under the veranda's welcome shade. The house is very comfortable with most mod-cons, and whilst not what would be termed luxurious, is really excellent value for money. Also the welcome pack of fresh local produce left by the owners was a very nice touch and much appreciated. The location is very convenient both for shorter trips to Martina Franca and local supermarkets, but also to either coast and the pleasant Adriatic beaches. We were very impressed with Jackie and her efficiency and attention to detail, and we were able to enjoy our holiday with the reassurance that if there were any issues Jackie would be on the case immediately.
LallyAug 2017
Management comment
We are pleased you enjoyed your stay and found the Trullo comfortable and "EXCELLENT VALUE FOR MONEY." We think Trullo Melograno is a home from home with lots of privacy.
Amazing Trullo, great location and perfect pool
Trullo Melograno - Traditional trullo just outside of Martina Franca. great location for visiting many villages and in-between both seas so you can try both set of beaches. All amenities you could need, even with small children to keep them entertained. peaceful and safe location and the the outdoor areas are pristine. We would definitely recommend and will be revisiting hopefully soon.
AtkinsonAug 2017
Management comment
Thank you for your 5 star review. We hope to welcome you back again soon and we are pleased your had plenty to keep your children entertained. For 2018 season we are also adding an outdoor table tennis table for our guests enjoyment.
Piękny oryginalny domek Trulli w cichej okolicy
Świetne miejsce w samym środku Pugli - wszędzie blisko (Bari, Monopoli, Brindisi, Ostuni, Lecce, itp.). Cisza i spokój, fajny basen z nocnym podświetleniem. Domek bazuje na oryginalnym Trulli i jest wyposażony w prawie wszystko czego potrzeba (za wyjątkiem ekspresu do kawy - choćby przelewowego, jest jedynie kawiarka), sześć miejsc do spania, dwie łazienki, klimatyzacja i duże zacienione miejsce na auta. Dodatkową atrakcją jest piec do pizzy na drewno (przesympatyczny właściciel Pino na naszą prośbę dostarczył nam je osobiście) - polecamy spróbować wykonać własną pizze (gotowe ciasto dostępne w sklepach lokalnych) ! Na powitanie czekał na nas kosz owoców / własna oliwa z oliwek / lokalny chleb / worek lodu w kostkach i zgrzewka mineralnej wody :) bardzo serdecznie dziękujemy ! Pani Jackie była bardzo pomocna i cierpliwie odpowiadała na nasze pytania drogą mailową, jak i odbierała od nas telefon (na miejscu) w sytuacjach pilnych o różnych porach dnia i nocy - również bardzo dziękujemy ! Jednym słowem - polecamy wszystkim to miejsce :)
Jaroslaw GruseJul 2017
Management comment
Thank you for your lovely review and we are pleased the Trullo was suitable for the 6 of you. With regards to the coffee machine, generally in Italy we use a Moka, a stove boiling coffee pot of which there is one suitable for 6 people at Trullo Melograno. We hope to welcome you back soon.
Great Villa, superb location and amazing pool
This is an outstanding villa. Having travelled extensively in Europe we can honestly say this is the best place we have stayed in. The pool and outside area is beautiful and the hosts have thought of everything to make your stay enjoyable. Our five year old especially loved the pool, table football and basket ball hoop. Inside you have all the equipment you need and the dishwasher is a nice touch. The beds are comfy too. Jackie the manager went over and above what was required of her especially when we messed up our car hire and ended up 4 hours late, she offered and went to the supermarket for us and got dinner and wine as we would arrive too late to sort it out for ourselves. The surrounding area, town, scenery are amazing and the villa is in a good location to visit all the surrounding areas. I recommend this place highly.
Jo PenneyJun 2017
Management comment
Thank you for your kind review. We always try to do the best for our guests to give you a perfect holiday in Puglia. Trullo Melograno is a lovely property and offers plenty for children to do apart from the pool. We look forward to welcoming you back again in the future.
Beautiful trullo with everthing you can dream of
We had such a lovely time in Trullo Melograno, beautiful Trullo with everything you can dream of. The garden and plants are so well tended, just didn't imagine a lawn in Puglia! What a fantastic experience. Thank you to Jackie for all her help and assistance and to Pino and Paola for allowing us to stay in their fab home. We love Puglia, plenty to see and do, superb food and wine. What more do you want for a holiday! We will be back
Smith..Sep 2016
Management comment
We are glad you enjoyed your stay at Trullo Melograno and look forward to welcoming you back again.
Paradise in Puglia? Most definitely!
What a wonderful place to stay! Trullo Melograno has everything needed for a great holiday – ample space, great facilities, super pool, cool shady areas and excellent location. Jackie, of Puglia Holiday Rentals, was exceptionally helpful, giving great advice and information about the property and surrounding area both before and during our holiday - nothing was too much trouble for her and we are very grateful to Jackie. Many thanks also to the lovely owners, Pino and Paola, for allowing us to stay in their home and for being so welcoming - the baskets of home grown produce and local products were fabulous! The main reason for visiting this area was to attend the wedding of our niece - a truly amazing couple of days which will be remembered forever as our "Italian Wedding Experience." However, this area of Italy is beautiful and we thoroughly enjoyed spending the rest of our time there meandering along the narrow alleyways of places such as Alberobello, Locorotondo, Ostuni, Lecce and Cisternino – many of which look stunning as you approach them from the road - especially Ostuni at night. There is a great ice cream place in a square in Cisternino – BARFOD 1951. Another memorable place is Sassi di Matera – amazing rock dwellings and steeped in history. Polignano a Mare is also worth a visit for beautiful cliff views and the old town, although maybe try to avoid a National Holiday! Although this is an area we visited "by chance," we would certainly recommend this part of Italy to others and for them to stay at Trullo Melograno. On a final note, try out the pizza oven – fun for everyone to get involved even though we certainly needed a little more practice!
The Hobsons..Aug 2016
Management comment
We are glad you enjoyed your stay at Trullo Melograno and hope you come back again. The region of Puglia has much to offer and we are always pleased to help you make the most of your stay, from where to go and what to do, to cookery lessons, wine tasting, yacht charter and without a doubt a "must see," the olive oil tour and tasting in Martina Franca. Live life and come and love Puglia!
Trullo Melograno - A lovely place to stay, perfect in every way
We would give Trullo Melograno 10 stars if we could. We stayed for 14 nights in July and we really didn't want to leave. The Trullo was spotlessly clean, very well appointed and had everything a family of five could need for a comfortable and really enjoyable holiday. I guess this comes from the owners living there for a number of years with their own family. Everything about Trullo Melograno is impressive. The pool is a really good size and is lovely to cool down in on a hot day. Often there is a welcoming breeze wafting over the terrace keeping the heat of the day pleasant. There is lots of outdoor space and the garden is very private. The pizza oven was great fun and was well used. We all got involved in making them and they were as good as any on offer in the local restaurants. The location was perfect for exploring this beautiful area of Italy. We certainly recommend visiting Matera, Ostuni, Alberobello, Martina Franca, Fasana & Lecce, along with the many beaches dotted along the coast. If you get a chance do take advantage of chartering the Yacht with Captain Greg, what a lovely peaceful experience. The whole family enjoyed swimming in the sea and looking out for Dolphins and Turtles. Booking was very easy, Jackie was extremely professional and ensured we were well looked after. I have no hesitation in recommending Puglia Holiday Rentals and I would certainly book with Jackie again without any hesitation. I particularly appreciated it that our security deposit was back in our bank account before we had even left the country. I am sure we will be back soon.
Val Hardgrave..Aug 2016
Management comment
Wow, thank you so much for taking the time to write such a lovely review. We think Trullo Melograno is a superb property too with great outdoor space. We pride ourselves in offering a professional service to all our guests
The accommodation was spacious and well equipped, very private and great to chill out.
Fantastic trullo! ★ ★ ★ ★ ★ We stayed at this trullo for 10 days at the end of June, it was everything and more than we would want from a villa. The accommodation was spacious and well equipped, very private and great to chill out. We like to be in the countryside so this was really good for us, but it was a 10 minute drive to the nearest town (Martina Franca). There is lots to see in the area as well as relaxing either by the pool or going to the beach.
C Rutter..Jul 2016
Management comment
Martina Franca is close by and we are pleased you discovered many of the lovely restaurants and cafe/bars that are in town.