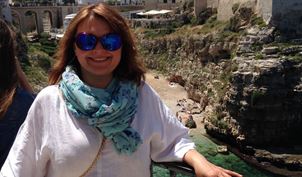 Apulia ,po włosku Puglia ,jest regionem pełnym niespodzianek :ogromne przestrzenie gajów oliwnych, winnice ,suche ściany z kamienia otaczające stożkowe domy zwane trulli . długie odcinki piaszczystych plaży .średniowieczne miasteczka i zamki ,żeby wymienić tylko kilka .
Z bezpośrednim lotem miedzy innymi z Warszawy, trochę ponad dwugodzinnym ,teraz także ty możesz odkryć tą dziewiczą i ciągle właściwie nieznaną część Włoch .
Puglia Holiday Rentals oferuje teraz także swoje usługi w języku polskim .
Barbara jest naszym polskim partnerem ,który służy pomocą na każdym etapie rezerwacji twoich wymarzonych wakacji .
Do niej należy pomoc w znalezieniu idealnego zakwaterowania aby wakacyjny pobyt pozostał
niezapomniany .Pomoże odkryć piękno Apulii z niezapomnianą kuchnią ,doskonałym winem i fascynującą tradycją .
Barbara urodzona i wychowana w Polsce .Przez wiele lat związana zawodowo z Londynem ,teraz korzysta ze swojego profesjonalnego doświadczenia w Apulii .
Aby dowiedzieć się więcej ,Barbara ,nasz polski reprezentant ,jest dostępna aby odpowiedzieć na twoje zapytania pod numerem:
info@pugliaholidayrentals.com
For direct flights from the UK to Bari and Brindisi, Puglia's main airports check the links below.
Ryanair flies to both Bari and Brindisi throughout the year from Stansted
British Airways flies to Bari from Gatwick April through to October
Easyjet flies to Bari or Brindisi from Gatwick throughout the year
Other Italian airports within easy reach of Puglia include Pescara and Naples (about 3 hours).