For translation select language below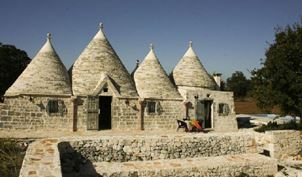 One of the first things visitors to Puglia are keen to know about are trulli, the cone topped houses that were originally used for storing grain, farming tools or even housing animals, but now being renovated as fully equipped modern homes.
The walls of a trullo are built using the dry stone wall method (i.e. without mortar) and can be up to 2m thick with the space between the inner and outer walls filled ensuring that the interior is cool during the hot summers and warm in winter.
There are many myths surrounding the reason for the cone shaped roofs on "trulli". One theory is that it was a form of property tax evasion. By pulling on a rope attached to the "trullo", the owner could pull the building down when the tax collector was imminent and reassemble it once he had left!
The symbols sometimes painted on the grey stone of the cupola are signs of good omen although their origins remain unknown. They may have been introduced by eastern settlers in Puglia, or be of Christian origin dating back to the first century.
Visit Alberobello, a UNESCO world heritage site, and the centre of 'trulli land' with a concentration of trulli many of which have been converted into shops and restaurants.
Take a look at our website, we have some beautifully renovated trulli available for holiday rental.
Ref: 110020 |
Located in the heart of the Cisternino countryside Trullo Caterina is available for rental by the owner and offers peace and tranquility. This one bedroom trullo is surrounded by olive and other fruit trees and has a beautiful private pool carved out of the rock. Sleeps 2 only.
Ref: 110030 |
The beautifully restored three bedroom Trullo Mandola is located in the Puglia countryside and yet within walking distance to the town of Locorotondo and just a short drive to the town of Martina Franca. Both towns have a variety of shops, restaurants, bars and cafes. Sleeps 5 in 3 bedrooms.
Ref: 110032 |
The beautifully restored one bedroom Trullo Noci is located in the Puglia countryside and yet within walking distance of the charming town of Locorotondo and just a short drive away from the larger town of Martina Franca. There are a good choice of shops, restaurants, bar and cafes in both towns. Ideal for a romantic break. Sleeps 2
Read our blog where we will share our experiences had in Puglia. You will get honest and frank opinions, some serious, some amusing but always part of life in Puglia.
Complete your trip to Alberobello with a visit to small and atmospheric Trullo Antichi Sapori shop which has been selling quality local cheeses, salami, wines, olive oils, pasta, etc.
The shop which has been operating since 1930 is made up of three trullo cones in which every nook and cranny has been filled with local produce for sale.
To get a feel for what it would have been like to live in a trullo in the early part of the 20th century you can see the kitchen corner typical of the time and view a bedroom in one of the cones which has been furnished with a wrought iron bed with a hand made bedspread, as would have been worked by the women of house. The room is viewed via a strategically placed mirror.
The owner, Maria or her assistant, who speaks excellent English, will be happy to show you around give you a taste of some of the local produce and wines.
All their items can be shipped overseas.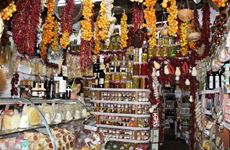 For direct flights from the UK to Bari and Brindisi, Puglia's main airports check the links below.
Ryanair flies to both Bari and Brindisi throughout the year from Stansted
British Airways flies to Bari from Gatwick April through to October
Easyjet flies to Bari or Brindisi from Gatwick throughout the year
Other Italian airports within easy reach of Puglia include Pescara and Naples (about 3 hours).