Complete your trip to Alberobello with a visit to small and atmospheric Trullo Antichi Sapori shop which has been selling quality local cheeses, salami, wines, olive oils, pasta, etc.
The shop which has been operating since 1930 is made up of three trullo cones in which every nook and cranny has been filled with local produce for sale.
To get a feel for what it would have been like to live in a trullo in the early part of the 20th century you can see the kitchen corner typical of the time and view a bedroom in one of the cones which has been furnished with a wrought iron bed with a hand made bedspread, as would have been worked by the women of house. The room is viewed via a strategically placed mirror.
The owner, Maria or her assistant, who speaks excellent English, will be happy to show you around give you a taste of some of the local produce and wines.
All their items can be shipped overseas.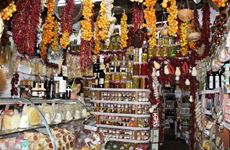 For direct flights from the UK to Bari and Brindisi, Puglia's main airports check the links below.
Ryanair flies to both Bari and Brindisi throughout the year from Stansted
British Airways flies to Bari from Gatwick April through to October
Easyjet flies to Bari or Brindisi from Gatwick throughout the year
Other Italian airports within easy reach of Puglia include Pescara and Naples (about 3 hours).
Please feel free to contact us by using this form or the telephone numbers above or email us on:
info@pugliaholidayrentals.com
If you are looking for some help with finding the perfect holiday rental in Puglia please include the following information so what we can process your enquiry as quickly as possible
Dates
No of nights
No of adults
No of children
Budget for this period
Any further information that would help us to find the perfect Puglia rental for you and your family.
We look forward to hearing from you
Please enter a valid email address