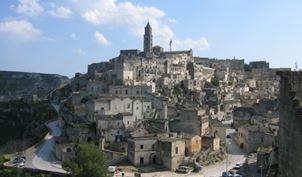 Italian City of Matera in Basilicata Awarded European Capital of Culture 2019
The ancient city of Matera, known as "la città sotterranea" (the Subterranean City), is steeped in history and is home to the famous Sassi, houses dug or cut into the calcareous rock itself, and designated a UNESCO World Heritage Site. The Sassi which means stones, originates from a prehistoric settlement, and are suspected to be some of the first human settlements in Italy. Many of these homes which are carved into the rock and look like houses piled one on top of the other are in reality only caverns. Step onto one of the narrow lanes between houses, and you're actually standing on the roof of the house below.
In the 19th and early 20th centuries, poverty also was rife in Matera, as for so much of southern Italy. People lived in these one-room stone homes without heating or plumbing and often with donkeys or other animals sharing the same space. Conditions were so bad that, in 1952, the government of Italy was shamed into moving the dwellers out of their old quarters and into new, modern homes. This "new Matera" still exists, up the hill from the ancient sassi, and it's where the vast majority of Matera's residents live today.
Matera Today
Now, however, the Sassi district has gone through extensive re-development and hosts some incredible cave hotels, private homes and restaurants, lovingly restored to enhance their original features.
Matera, nicknamed "the second Bethlehem", has impressed and attracted writers, artists and directors for a long time; the most famous example may be Mel Gibson's "The Passion of the Christ", which was filmed there. Shooting of the remake of the epic historical drama Ben Hur also began early this year in Matera. The film's director, Timur Bekmambetov, selected Matera to double as Jerusalem, hometown of Ben Hur, and to film in the area of the caves for early scenes in the story. As many as 1,000 extras have been selected to play Roman soldiers in the remake of the 1959 blockbuster that starred Charlton Heston and Jack Hawkins and that won 11 Oscars. Local residents are among the extras in the film. Tourists visiting these days may get a chance to spot some of the film's stars, including Morgan Freeman and Jack Huston.
Many other films made in Matera include:
Alberto Lattuada's La lupa (1953)
Roberto Rossellini's Garibaldi (1961)
Luigi Zampa's Roaring Years (1962)
Brunello Rondi's Il demonio (1963)
Pier Paolo Pasolini's The Gospel According to St. Matthew (1964).
Francesco Rosi's More Than a Miracle (1967)
Lucio Fulci's Don't Torture a Duckling (1972)
Roberto Rossellini's Anno uno (1974)
Fernando Arrabal's The Tree of Guernica (1975)
Francesco Rosi's Christ Stopped at Eboli (1979)
Francesco Rosi's Three Brothers (1981)
Bruce Beresford's King David (1985).
Paolo and Vittorio Taviani's The Sun Also Shines at Night (1990)
Giuseppe Tornatore's The Star Maker (1995)
Mel Gibson's The Passion of the Christ (2004).
Abel Ferrara's Mary (2005)
John Moore's The Omen (2006)
Catherine Hardwicke's The Nativity Story (2006).
Upcoming movies filmed in Matera are Cyrus Nowrasteh's Christ the Lord: Out of Egypt and Timur Bekmambetov's Ben-Hur, which are scheduled to be released on early 2016.
For direct flights from the UK to Bari and Brindisi, Puglia's main airports check the links below.
Ryanair flies to both Bari and Brindisi throughout the year from Stansted
British Airways flies to Bari from Gatwick April through to October
Easyjet flies to Bari or Brindisi from Gatwick throughout the year
Other Italian airports within easy reach of Puglia include Pescara and Naples (about 3 hours).
Please feel free to contact us by using this form or the telephone numbers above or email us on:
info@pugliaholidayrentals.com
If you are looking for some help with finding the perfect holiday rental in Puglia please include the following information so what we can process your enquiry as quickly as possible
Dates
No of nights
No of adults
No of children
Budget for this period
Any further information that would help us to find the perfect Puglia rental for you and your family.
We look forward to hearing from you
Please enter a valid email address